I grew up always wanting to be a criminal defense lawyer like my late dad, George Roland.
 He is my role model of what a criminal defense lawyer should be – a zealous and unwavering protector of our constitution as well as a compassionate and empathetic advocate.
Acting as an unwavering protector and a compassionate advocate for her clients, Ms. Roland strives to help those she represents to achieve the best possible outcomes to their cases. Working with the Texas Tech Innocence Clinic and the Criminal Defense Clinic during law school, Ms. Roland gained valuable knowledge and experience, which she draws on to help craft strategies aimed at obtaining dismissals, reduced charges or limited penalties for her clients. Since becoming a lawyer, Ms. Roland has devoted 100% of her practice to defending those accused of criminal offenses. Most of the cases she handles involve charges such as DWI, possession/manufacture/delivery of drugs, assault, family violence, murder, robbery, criminal mischief, theft and sexual offenses. Ms. Roland has an Avvo "Superb" rating. She has been named a Super Lawyer numerous times and is regularly invited to write and speak on criminal law issues throughout the state.
Passionate about protecting the freedoms of those facing criminal charges, Ms. Roland provides individual advice and aggressive representation. She focuses on the individual accused and understands that people are more than just a case or accusation. Ms. Roland understands that the criminal case you are facing is the biggest and most important thing happening in your life and devotes her attention to your case accordingly. As the founding attorney at the law office of Sarah Roland, she serves people living in Denton, Dallas and Collin County as well as throughout Tarrant, Cooke and Wise counties and across the state. Believing that everyone is entitled to the protections afforded to them under the law, Ms. Roland zealously advocates on their behalf.
Ms. Roland is actively involved in the legal community both locally in the Denton area and across the state. She is a member of the Texas Criminal Defense Lawyers Association where, since 2016 she has been Editor of The Voice and serves on the executive committee. Ms. Roland also serves on the board of directors for the Innocence Project of Texas and has previously served in varying officer capacities for the Denton County Criminal Defense Lawyers Association.
"Defending people is not just what I do for a living; it is my passion and what I have always wanted to do. Everyone, no matter the accusation and even the least among us, deserves the full and complete constitutional protections afforded all of us by our founding fathers."
Selected Recognitions/Awards
Super Lawyer, 2014-2020
Super Lawyer's Rising Star, 2012-2014
Top 100 Trial Lawyers, 2013-2019
2014 Hal Jackson Award
TCDLA Presidential Award, 2017-2018
Criminal Defense Clinic Clifford W. Brown Award, 2006
CALI Excellence for the Future Award, 2006
Leadership and Professional Associations
State Bar of Texas, member
Texas Criminal Defense Lawyers Association, Voice editor, 2016-2020
Texas Criminal Defense Lawyers Association, executive committee, 2016-2020
Texas Criminal Defense Lawyers Association (TCDLA), board of directors
TCDLA Criminal Defense Lawyers Project, chairperson 2012-2013
Denton County Criminal Defense Lawyers Association, treasurer/secretary 2008; vice president 2009; president 2010, 2011
National Criminal Defense Lawyers Association, member
Innocence Project of Texas, board of directors 2012-2013, 2018-2019
Criminal Defense Trial Skills and Trial Law Program, Faculty, Center for American and International Law (Plano)
Texas, November 2006 (state level)
Eastern District of Texas, 2011
(federal level)
J.D., Texas Tech University School of Law, May 2006
B.A., English Literature, Baylor University, May 2003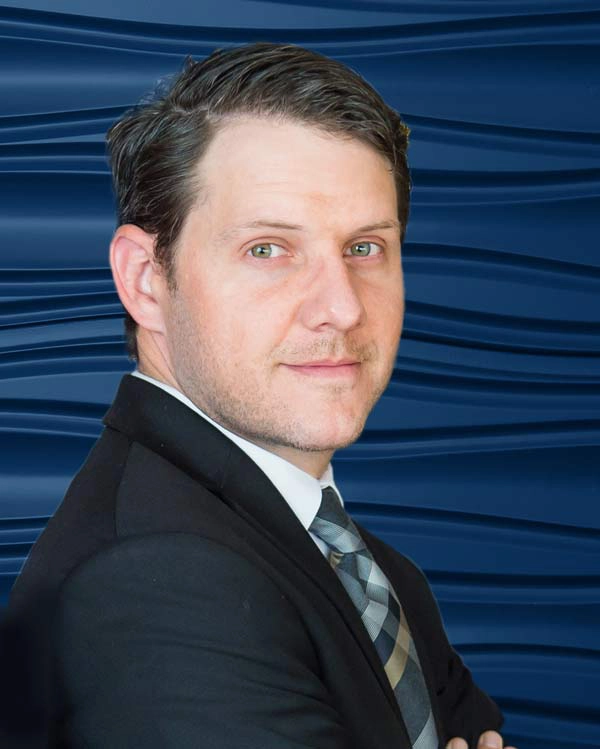 George is Sarah's brother. He started working with Sarah straight out of law school. He is an award-winning criminal defense lawyer who represents people accused of felony and misdemeanor charges in Denton, Texas. George defends people accused of all criminal charges, including drug charges, and aggressively defends people accused of drug possession, and of selling drugs. George regularly represents students at school disciplinary hearings and during Title IX investigations. He is an aggressive trial lawyer. Sarah and George make an incredible trial team and try all their cases together.
Call one of the best defense lawyers in North Texas for a free consultation.