If you haven't heard this name, remember it.  It is an important name.  It's a seminal name.  It is THE name in the criminal justice system that has changed…and is changing things…in a major way.
Tim Cole
 died in 1999.  In Texas.  In prison.  And
 innocent
.
He died an innocent man.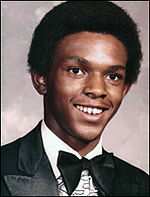 Tim was a veteran and a Texas Tech student.  But in 1985 his life changed when he was falsely accused of rape.  He was offered probation before trial.  Yet he persisted in his innocence and went to trial.  He was convicted.  He was sent to prison.  He fought for his freedom.  He later became eligible for parole.  A standard condition of making parole that the parolee accept responsibility for the crime.  He could have been free…to an extent.  Yet he persisted in his innocence.  He died in prison at the young age of 39, of complications due to asthma.  A travesty.
Today, the State Historical Commission acknowledged and recognized that the system forgot Tim Cole.  A another first in Texas history.  A marker was placed at Mount Olive Cemetery in Fort Worth near his gravestone to forever remember Tim and his life, his struggle, and the system that failed him.
I was proud to be there for this historical event representing not just the 
Innocence Project of Texas
 but everyone who fights to keep the innocent from having to endure what Tim Cole endured.
Tim Cole.  Remember his name.  The name that will forever be synonymous with actual innocence.  Remember what he stands for.  Don't forget him.  Fight to end injustice in our justice system.